Giving Artfully Kids Instructors lead classes where kids will be experiencing the joy of giving. If you are inspired to help Build Generation Kindness to families in your community, we'd love to hear from you.
Empowering Kids Through Kindness
Lead kids in projects that will empower children and show that they can make a difference, not only locally but globally.
Flexible Schedule
Make additional income being your own box on a flexible schedule knowing you will also be helping children make an impact. #ladyboss
Meaningful & Creative Projects
Use our ready-made lesson plans to help children experience the joy of giving and spreading kindness through our kid-tested and parent/teacher approved projects.
WHAT OUR INSTRUCTORS ARE SAYING
As a teacher for Giving Artfully I am amazed when I witness the creativity that giving inspires. Children can be great givers, we just need to guide them and provide them with the tools necessary to give.
~ Brenda (Giving Artfully Kids Instructor)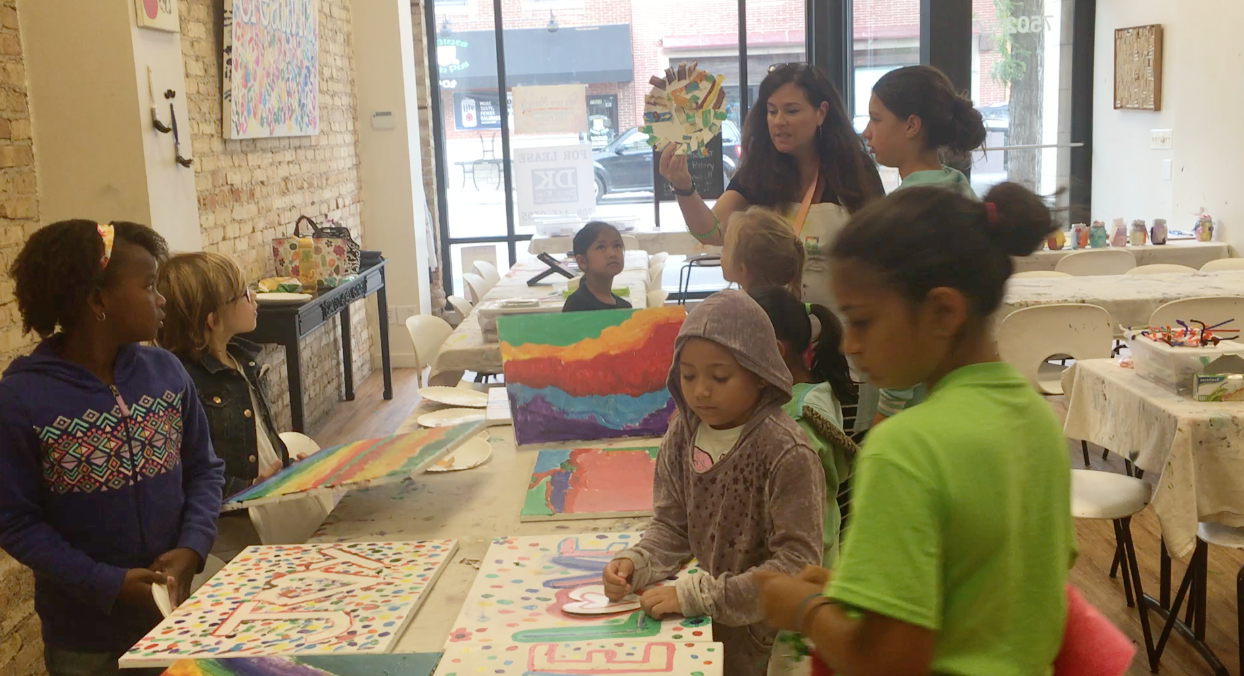 Instilling the value of kindness at a young age is crucial to create compassion and hope for our children's future. I am honored to be an instructor on the Giving Artfully Kids team. Many students have told me that they LOVE coming to the Giving Artfully classes. They are enthusiastic about each project, excited to create, to learn, and—most importantly—to help others.
~ Suzanne (Giving Artfully Kids Instructor)
WHO CAN BECOME A GIVING ARTFULLY KIDS INSTRUCTOR?
Giving Artfully Kids Instructors come from a variety of backgrounds. Professional teaching experience is not required, but more importantly we are looking for individuals with the following skills:
Passion for working with children

Desire to teach children about the importance of helping others and spreading kindness

Self-starter willing to bring in a new program to their community

Classroom management experience
WHAT CAN I EARN AS A GIVING ARTFULLY KIDS INSTRUCTOR?
As a Giving Artfully Kids instructor, there are several opportunities on how you can run a program.
Weekly after-school enrichment program

1-Day workshops in schools, community centers or libraries

Birthday parties

Partnerships with senior centers

Parks and Recreation Programs
Depending on the location, number of classes, workshops or parties, instructors can make and extra $100 to $2000 per month. We will help guide our instructors to develop programs in their community. Our instructors often teach several classes per week and schedule one-off workshops in various locations.
WHAT TYPE OF TRAINING IS PROVIDED?
After joining Giving Artfully Kids, we provide an online training that includes:
Mission and Goals

Service Learning

Classroom Climate

Crafting Tips

Curriculum Overview

Expanding Giving Artfully Kids in the community
We will also be holding monthly webinars for our members to help them run a successful Giving Artfully Kids class.
WHERE CAN I HOLD A GIVING ARTFULLY KIDS CLASS?
With its flexibility and ease of implementing, Giving Artfully Kids classes can be held in several different locations. We can work with you to help find places to start your very own Giving Artfully Kids class.
After-school enrichment programs

1 day workshops

Parks and recreation programs

Church Sunday School Program

Intergenerational crafting workshop with a senior center

Community centers

Art studios
I'M READY TO JOIN! HOW DO I START?
Click on the button below to schedule a call! If you have any questions, please contact us at GAKids@givingartfully.com. We look forward to seeing you part of the community!