DIY Coasters Tutorial ~ A Perfect Gift for Mom
With Mother's Day just around the corner, I was looking for a fun and meaningful project for our students to make in our after-school program.
After scouring Pinterest for hours, I finally found the perfect project for my students to finish in less than an hour. These DIY Coasters are not only functional but also so fun for kids to be creative and add their personal touches about their moms.
Free PDF Instructions: just fill out the form below.
As in most of our classes, one of my favorite parts of this project is seeing the beautiful projects made by the kids. As you can see, the sample I made was pretty simple and now that I look at it, pretty boring!
But check out the students' coasters - I am blown away by their fantastic work!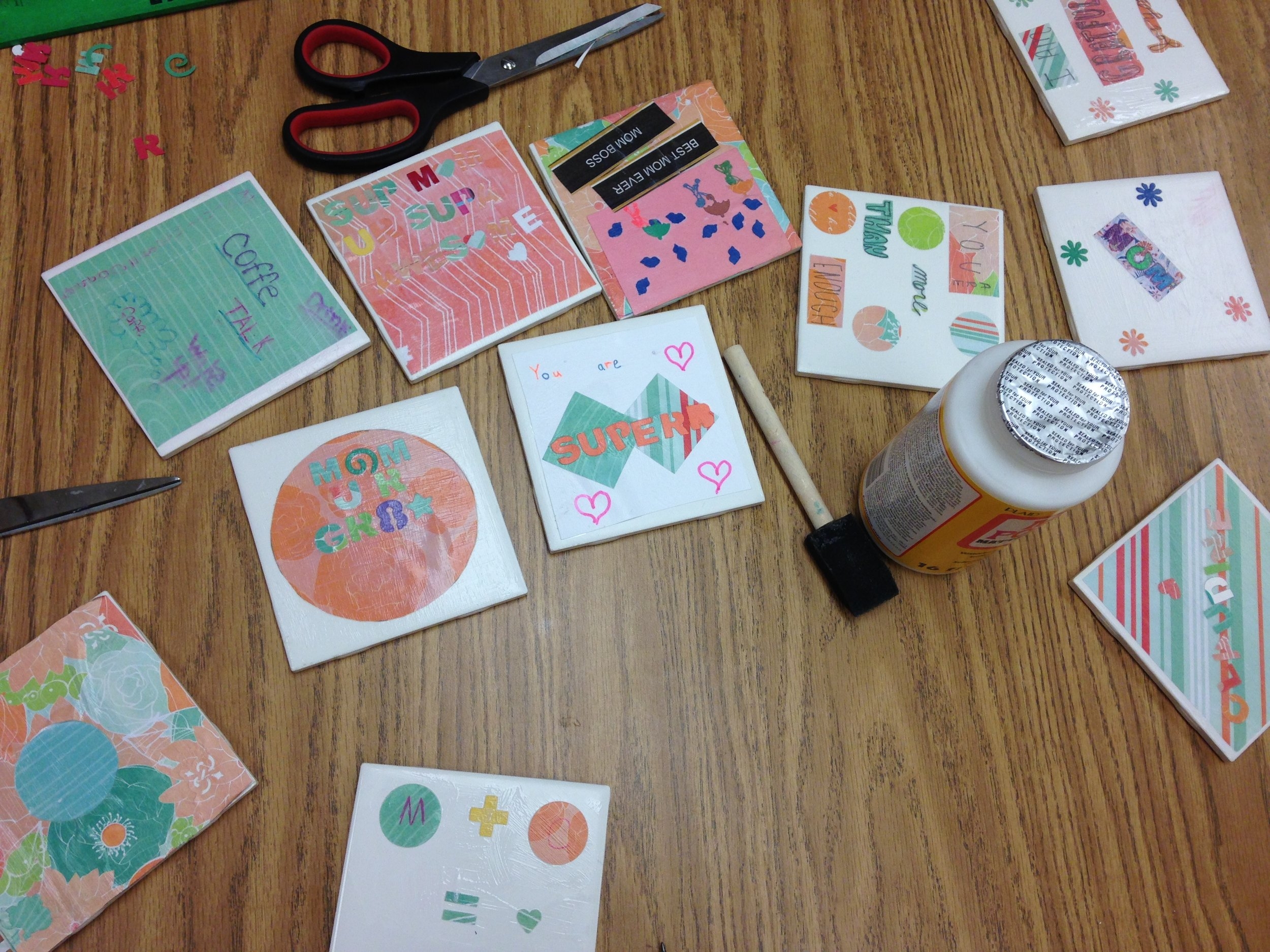 As a gift for moms, students made 3-4 coasters. We then packaged them up and added a tag and ribbon. It was definitely one of their favorite projects this session!
MATERIALS
White Ceramic Tiles (I found 100 white tiles for $16 at Home Depot)
Modge Podge
Foam Brush
Magazines/Catalog (I love using the Paper Source Catalog!)
Decorative Paper
Foam pads
Optional for decorating (decorative scissors, hole punches and stencils)
I found this great kit on amazon - see the link below.
DIRECTIONS
(Scroll down for video instructions I did on FB Live)
Pick the design for each coaster (be sure to allocate a good amount of time for this. Children love looking through magazines to find the "perfect" design! Let their imaginations soar!)
Carefully glue each piece onto the tile using the Modge Podge. Be careful not to use too much Modge Podge. Also be sure there are no "air pockets", otherwise it will not lay flat.
Let the pieces dry
Carefully brush a layer of Modge Podge on the tile to secure the pieces in place
Let the tile dry and then add one more layer of Modge Podge
Add 4 felt tips to the bottom of the tile to prevent scratching the table surface
Here are some other great examples of coasters made by my kids. You can also display these on a small easel as decorating on a desk. The options are limitless and will be a timeless gift for everyone.
Amazon Associates Disclosue: We are a participant in the Amazon Services LLC Associates Program, an affiliate advertising program designed to provide a means for us to earn fees by linking to Amazon.com and affiliated sites.